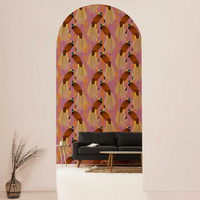 House of Fetch x Illustrations by Kristel
Exclusive designs inspired on nature's finest. As an illustrator Kristel creates work for magazines such as ELLE and Vogue and newspapers such as Het Parool. 
Discover her exclusive collection of wallpapers, murals, circles and squares. 
Discover the Collection
FEATURED: Museum collection
Made-to-Measure & Eco-Friendly
Our wallpaper is made from non-woven, eco-friendly paper which is printed and cut to size in The Netherlands.
The best quality wallpaper
The wallpaper is printed on PVC-free, FSC-certified fleece wallpaper. This is why our wallpaper does not have unpleasant smells like vinyl wallpaper. FSC certification means that the company that produces the non-woven wallpaper manages its forests in a sustainable way. The wallpaper is biodegradable and has the best emission label A +.
Request the perfect size
When requesting a custom offer via the Custom Offer Form in the top menu, we recommend to add a margin of 3-5 cm to the width and height of your chosen design, so you are always sure you have enough wallpaper to cover your wall fully. In both old and newly built houses, walls are rarely exact or straight.
Shipping
We ship worldwide. We always ship for free in the Netherlands.
Such an eye-catcher. Couldn't be happier. Fast delivery, beautiful quality and the perfect size.

Juliette, Antwerp
Super quality wallpaper. Easy to apply. The mural has truly transformed our bedroom. 

Adam, Maastricht
The flowers pop-off the wall. Everyone who enters our house is blown away by our artistic walls.

Robin, Amsterdam